Protective shading
                         The extension of the offices of the pharmaceutical company Roche Diagnostics in Barcelona includes a "shade house". The façade in ACCOYA® acetylated wood plays a significant role in its energy efficiency goals.
Health and architecture have always been connected: inefficient building design and construction with polluting raw materials are surefire routes to poor health for inhabitants. At the same time, responsible, smart design and the use of sustainable raw materials are decisions that result in successes such as sustainability, energy efficiency and self-supply.
This is the case in today's project, with sustainable achievements that are the healthy culmination of the work carried out inside. We are referring to the expansion of the offices of Roche Diagnostics in Sant Cugat del Vallès, Barcelona. A project signed by Battleiroig Arquitectura.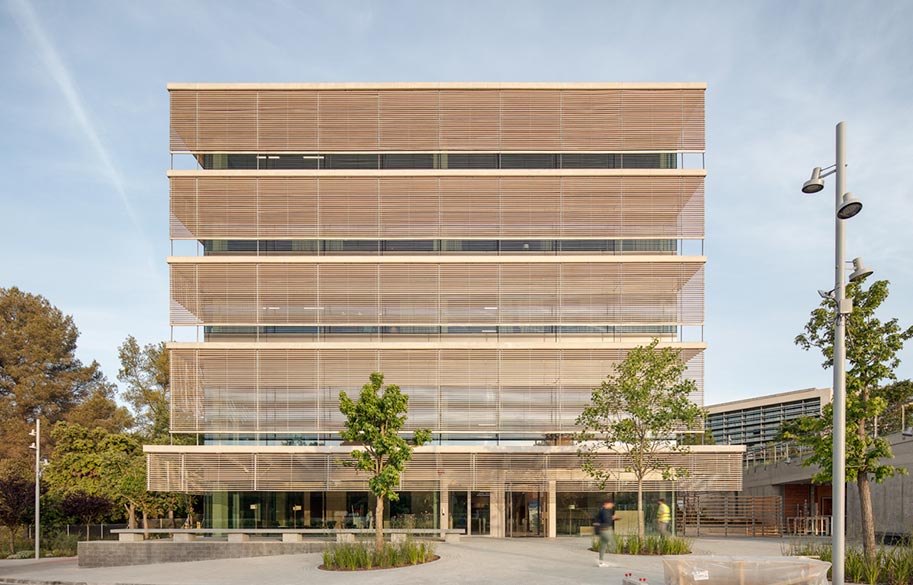 A façade that protects our health
The architects of this new building confirm that their design was based on the concept of a shade house. In other words, a traditional structure made to provide shade.
The ACCOYA® slats of each façade are adapted to the direction of the sun, and protect the staff inside from the strong sunlight and heat, where research into diagnostic solutions for doctors and pharmaceutical laboratories takes place.
Sustainability and beauty, resistance and durability
ACCOYA® is acetylated wood, in other words, wood modified using a completely natural treatment. The result is a building material with excellent behaviour in exteriors, where it is possible to apply treatments or leave it natural. In both cases it has a powerfully attractive aesthetic appearance.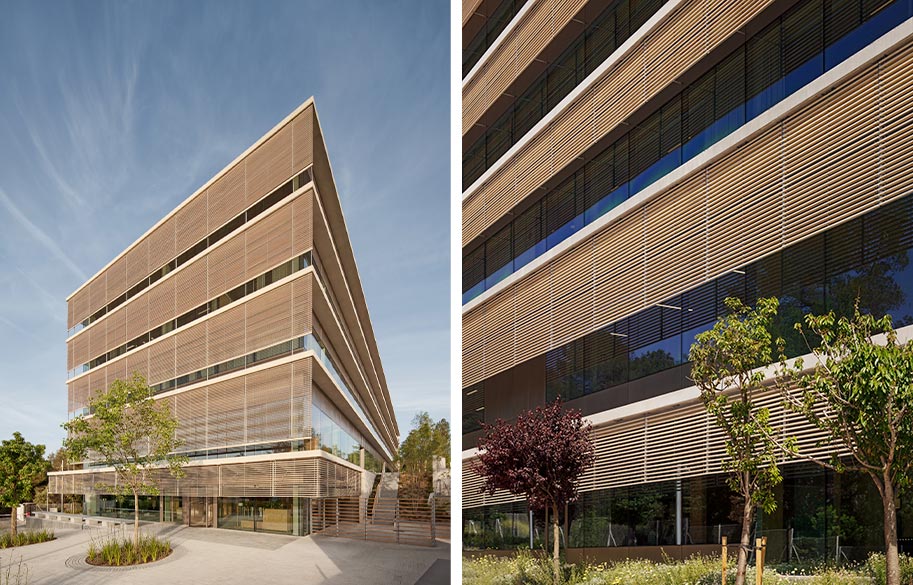 Acetylation makes ACCOYA® a wood that is exceptionally resistant and durable, to the point that the manufacturer provides a written 50-year guarantee for projects above ground level (use classes 1, 2 and 3) and 25 below ground or in fresh water (use class 4).
Like other types of wood, such as oak, ACCOYA® is a magnificent option for sustainable façades such as that of Roche Diagnostics.
From the grey of cement to the green of a garden
The project for this extension was to reinterpret the space from a sustainable concept. The staff workspaces (offices and laboratories) have been refurbished with two buildings, and efforts were made to give the plot, almost 40,000 m2, a green side to its personality.
For this purpose a garden was created where the main parking area had been previously. This green space takes centre stage, and acts as connecting space for the different parts of the campus.
You can see the complete project file by clicking on this link.