How to be on a par with Oxford tradition
The extension of St. Edward's School, by TSH Architects, consists of two new buildings. The top floor of one of them is crowned by an impressive gabled roof made with oak glulams
Oxford's college buildings are an important part of Great Britain's architectural heritage. Its style is marked by a mixture of architectural influence (Romance, Gothic and Renaissance), and as a whole transmits a shared image of history, beauty and practical function.
It is an image so deeply rooted that anyone who reads a novel set in the university city will quickly imagine the limestone of the buildings, the steeply sloping roofs, the towers and the stained glass windows.
Hence the challenge in tackling an extension project like this one for St. Edward's School, in which the Oxford studio TSH Architects has extended the school with two buildings, a learning centre and an assembly hall.
The first stands out for its spectacular gabled roof made of VIGAM, the only glulam in the world with the CE marking for structural use.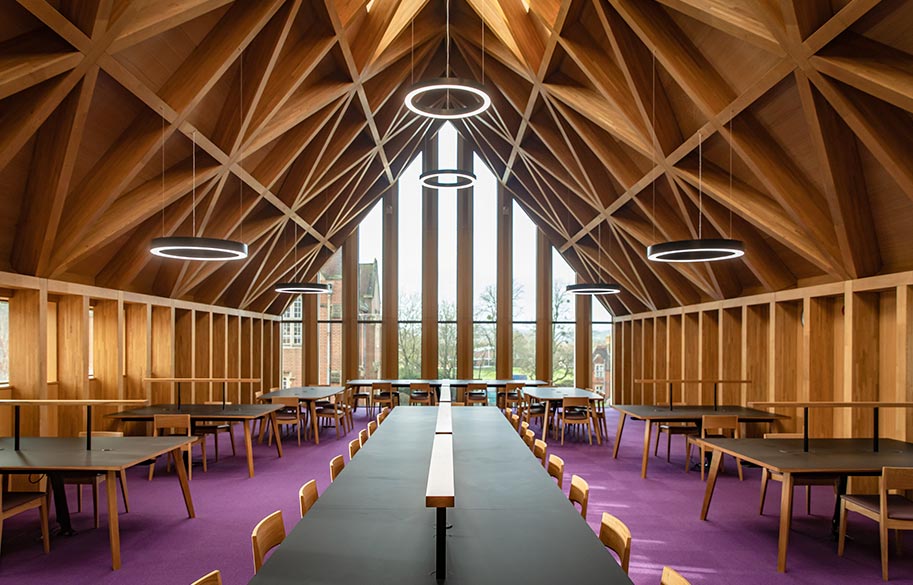 The ideal roof for a beautiful reading room
The top floor of the learning centre houses a study space and reading room from which to enjoy a view of the school playground, the gardens and the older buildings.
The roof of this room is a magnificent gabled design made of oak glulam wood. Its beams are arranged in an elegantly creative way, and let the light into some areas to facilitate reading with natural light.
Of course, the very nature of oak is warm and welcoming for the site's users.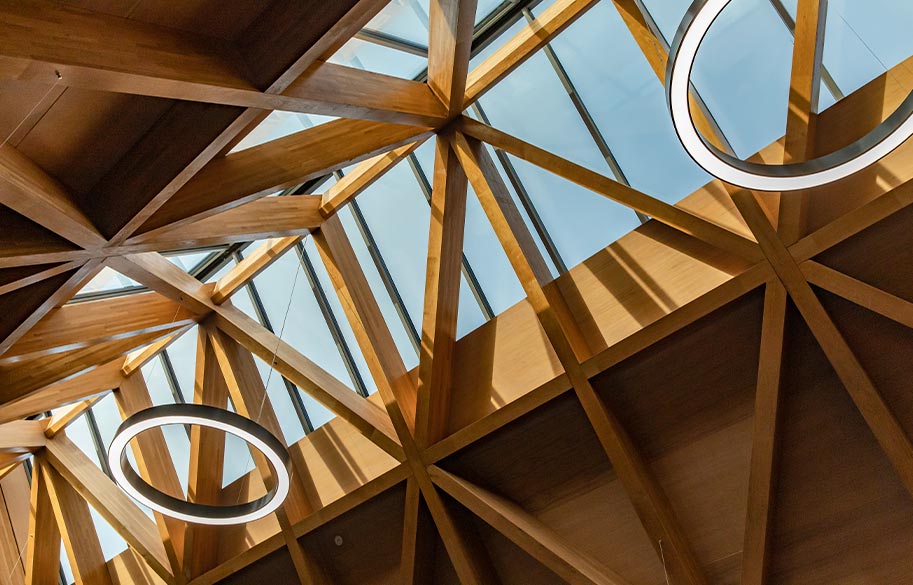 Wooden glulams with the CE marking for structural use: there's no better option
The choice of VIGAM in this project is a safe bet from an aesthetic point of view, as it is on a par with the expectations of Oxford design thanks to the sensations that this highly appreciated wood evokes.
At the same time, the structural capabilities of oak and VIGAM are perfect for building a roof in a place like Oxford, a site exposed to adverse weather (rains, wind and snow).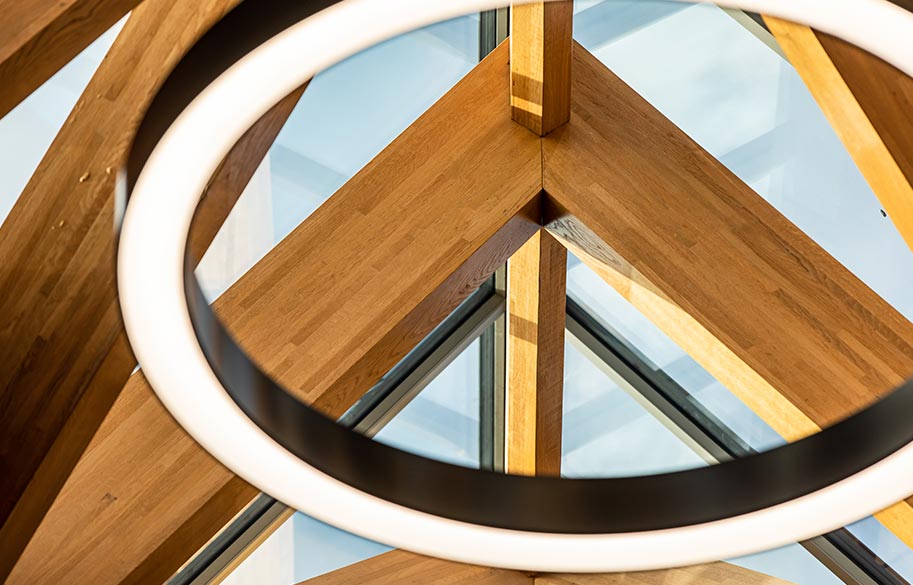 Let's not forget, of course, the advantages of choosing wood as our building material. The creative and sustainable possibilities of this natural material are a fact that is more and more present in the minds of architects and construction companies, as you can see in these 8 examples of wooden curtain walling in façades.
"Simeon's dream" has been accomplished
This extension is the finishing touch for the school that has a curious legend.
Founded in 1863 by Reverend Edward Stevens, it seems that the idea for its creation originated in a dream that appeared to Simeon the Righteous, a biblical character, who asked that a school be built in his honour.
Next to the new learning centre, the Olivier assembly hall has been built, a magnificent auditorium able to host more than a thousand people.
The photographs here are the work of the photographer Chris Heaney. You can see all the images of this project by clicking on the link.