NEN OFFICES
A sustainable concept is the hallmark of the restoration of this building in Madrid, which is clear at first glance with the choice of ACCOYA® sustainable wood.
The Nuevo Edificio Norteña (NEN) office building is located in the city district of Legazpi, a former industrial area of the Spanish capital that in recent times has acquired a refreshing air of services thanks, principally, to the influence of the Matadero cultural centre.
Its proximity to Madrid Río has also turned the area into a green space that the team of architects from ADOM-STUDIO, responsible of the restoration, wanted to impregnate in the project.
A building with sustainable personality
Originally built in 1967 and submitted over the years to various interventions that ended up dissipating its character, the ADOM-STUDIO project opted to give the building an image with its own identity, in tune with the sustainable nature of the surrounding area in which it was built. 
The choice of the materials is a nod to the past and future of the building. The steel of the boxes of the façade transmits the security and strength of the area's industrial past. The wood, however, primordial in the design of the refurbishment, is a whole ecological manifesto that is closely linked to the urban planning and sustainable architecture that are typical of the reconverted area.
ACCOYA®: aesthetics and efficiency for exteriors and interiors
The creators chose ACCOYA® sustainable wood as it is a material that is consistent with the drive for green regeneration in the area. Its sustainable qualities are complemented by its warmth, dimensional stability and written guarantees of durability (up to 50 years). All of these factors contribute to the underlying energy efficiency at the heart of this project.
This choice of ACCOYA® continues inside, where it acts as a "trademark image" of the building.
ACCOYA® acetylated wood: innovation is achieved naturally
ACCOYA® sustainable wood is a revolutionary building material thanks to its treatment methods. The acetylation process is carried out without any toxic products, modifying the cell structure of the wood to improve its technical properties.
This acetylation process reduces the wood's ability to absorb water by 80%, further improving the dimensional stability of this material. A modification of the cells that, in addition, makes moulds and insects fail to recognise the ACCOYA® wood as food, a method that is as natural as it is effective in preventing termites or other organisms that feed on wood.
Suitable for all types of finishes, ACCOYA® wood has a written 50-year guarantee. It is the perfect solution for environmentally aware architects who want give their projects sustainability, beauty and efficiency without renouncing creative possibilities.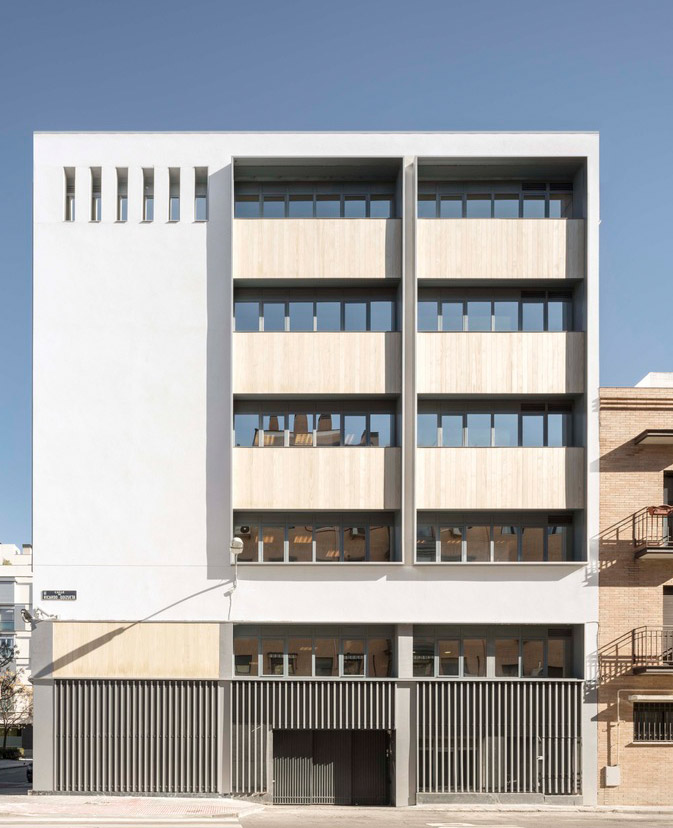 PROJECT FILE
Architectural studio: ADOM-STUDIO
Architects: Marta Susino, José María Peláez-Campomanes
Collaborators: Concha Padilla Berdugo, Elisa Sánchez Ramos
ACCOYA® distributor: GRUPO GÁMIZ
Area: 3084.0 m²
Year: 2018
Photography: Jesús Granada