09 Jul
A symbol of transparency manufactured in wood
MOdA, the new headquarters of the Paris bar association, designed by Renzo Piano, incorporates wooden curtain walling made with VIGAM, the oak glulam beam by Grupo Gámiz.
The Italian Renzo Piano (Pritzker prize 1998) is one of the most well-known architects in the world. He is also one of the most tireless voices on the need to engage in design and construction with respect for the environment. His defence of sustainable architecture can be read in numerous interviews and statements and, of course, it can be seen in his work.
Renzo Piano's close relationship with Paris began in the 1970s, when he created the Pompidou Centre alongside Richard Rogers. The French capital is home to one of the branches of his RPBW studio, which was responsible for creating the new Palace of Justice, located in district 17 of the city.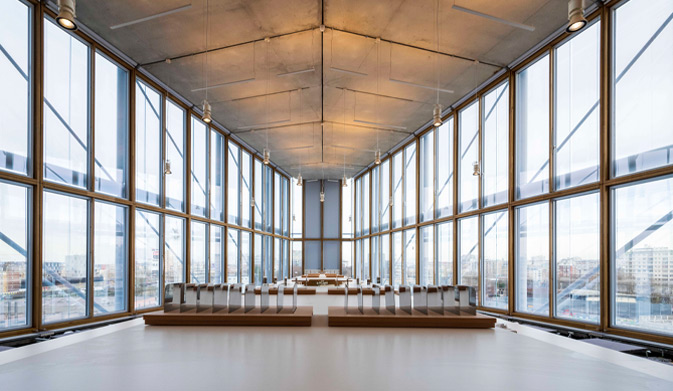 Maison de l'Ordre des Avocats: façade with wooden curtain walling
One of the main buildings in this complex is MOdA, the headquarters of the Paris bar association, where wooden curtain walling can be seen. This sustainable solution for lightweight façades is an option that is used ever more frequently by architects thanks to the beauty of the wood and its structural abilities.
The wooden curtain walling at MOdA was built with VIGAM, the only oak glulam beam in the world with the CE marking for structural use, designed, manufactured and distributed by GRUPO GÁMIZ.
Transparency, exchange and functionality
Curtain walling is this ideal choice to transmit one of the symbolic ideas that sustain this project by Renzo Piano: the transparency of the institutions responsible for upholding justice. From the outside, everyone can see the comings and goings of the people who work there.
In addition, the building and its adjacent squares have been designed to serve the other activities typical of the Court of Justice and, likewise, form part of the public life of the neighbourhood.