Wine and oak: inseparable
This hardwood, in addition to helping age wine, sustains some of the best wineries in the world with function and elegance.
Any enthusiast knows that wine is usually aged in barrels made of oak (French or American). Nevertheless, this essential part of the art of producing wine arose by chance. The Romans, who stored wine in clay amphorae, upon arriving in Gaul, discover that the contemporaries of Asterix and Obelix preferred to do so in oak barrels. The Romans, kings of the world at the time, converted this Gaulish speciality (based on their mastery in curving wood) into standard practice, as this storage method contributed to speed and savings: the barrels could be transported by rolling and did not break.
One day, after some years, someone realised that wine that had spent time in these oak barrels tasted better. And so began oenology. This shows that the two most important things that foster progress may well be creativity and luck. There is a third thing that makes the other two more productive: everyday hard work, dedication, passion. Only then is it possible to innovate and encourage concepts such as sustainable architecture. Designing and building with respect for the environment.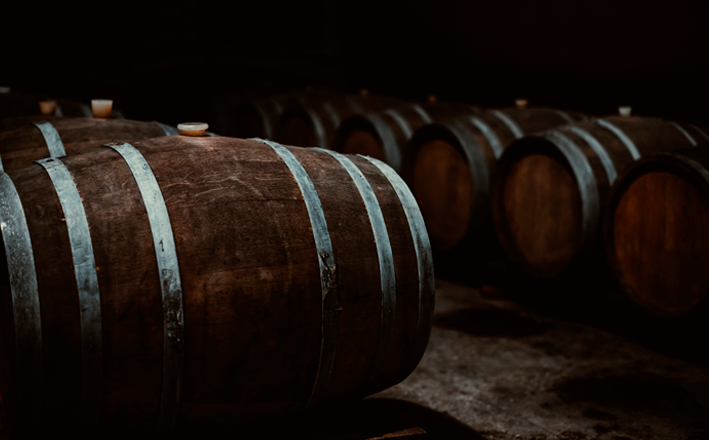 VIGAM: the scent of oak covers it all
Oak has a special class. The resistance and beauty of this unique wood is the hallmark of architecture projects that aspire to permanence and elegance. Wine culture is no exception. The most highly regarded architects are consolidating the image of exquisiteness and a taste for work well done, love for detail, transmitted by the wine industry.
The legendary wineries of Vega Sicilia, for example, with the designation of origin Ribera del Duero, cover their production plants with beautiful oak roofs made with VIGAM, the only oak glulam beam in the world with the CE marking for structural use. Beauty, resistance and stability are assured. And the pleasant scent of oak is all around, in every corner.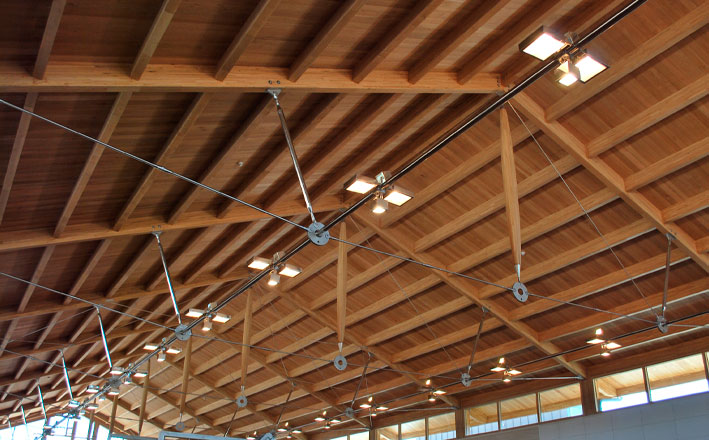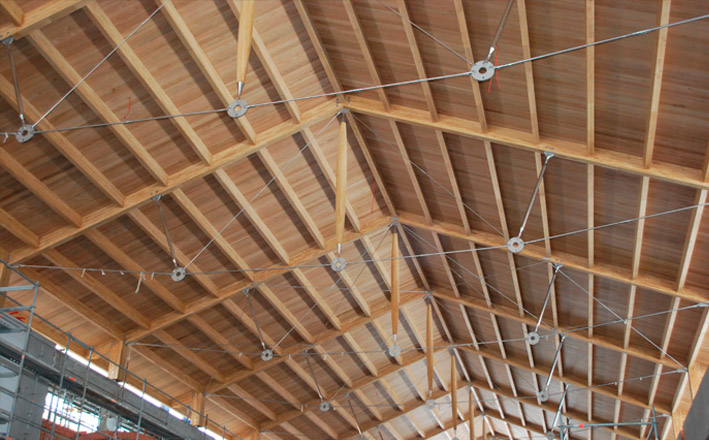 Sustainable architecture is also innovative
Many other winery projects all over the world are examples of innovation in architecture. Frank Gehry, Norman Foster, and Renzo Piano great architects who have let themselves be conquered by the possibilities of design and creativity of a culture that, like architecture, always looks to the future with creativity and sustainability.
As shown by the roofs of this winery, projects using VIGAM achieve spectacular aesthetic results thanks to the capacity for innovation in architecture and construction. In this regard, VIGAM beams are ideal for creating ecological wooden curtain walling, in other words, building lightweight façade in one hundred percent sustainable wood.